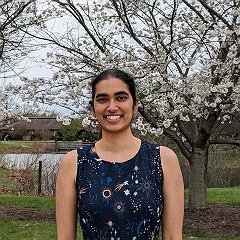 Registered user since Fri 16 Jun 2023
Bio:
Nandeeka Nayak is a rising fourth-year, Computer Science PhD student at University of Illinois at Urbana-Champaign, advised by Chris Fletcher. She works on understanding domain-specific accelerators for tensor algebra, with a focus on building abstractions that unify a wide variety of kernels and accelerator designs into a small set of primitives, in collaboration with Joel Emer and Michael Pellauer. In the past, she has also worked on hardware security.
Before coming to the University of Illinois, she completed her B.S. in Computer Science from Harvey Mudd College in 2020. There, she worked with Chris Clark in the Lab for Autonomous and Intelligent Robotics. Additionally, for her senior capstone project, she added a numerical programming library to the programming language Factor.
In her free time, she enjoys cooking, social dancing, traveling with her family, and studying Korean.
Affiliation:
University of Illinois at Urbana-Champaign
Contributions