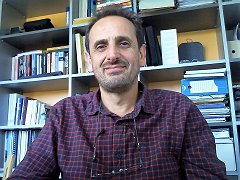 Registered user since Thu 15 Oct 2020
Bio:
Jean-Louis Colaço is R&D Distinguished Engineer at ANSYS and works on ANSYS® SCADE Suite® Core technologies (language, compiler, and other semantic based tools).
He received his Engineering and master's degree in 1994 and his Ph.D. in Computer Science from the National Polytechnic Institute of Toulouse in 1997.
He started working on Scade language and compilation in 1999 and his one of the main designers of Scade 6 language.
From 2007 to 2008 he worked in the innovation group at Siemens-VDO as a project manager in the powertrain department.
From 2008 to 2013 he was at Prover-Technology working on certified formal verification doing both tool development and consulting on application of model checking to railways systems.
Research interests:
Synchronous language, embedded software, compiler, formal methods
Contributions